At Slotpartners we believe in sharing. The more we benefit, the more you benefit. That means we always seek to give you the best deal. The more players you refer to us, the higher your percentage or CPA will be.
In our years of experience with affiliates we have learned one thing: every affiliate has their own preferences and business goals. That's why we offer various commission plans that we can adjust to fit your business.
The most popular Commission Plan is the Lifetime Revenue Share deal. You will earn a commission from every euro spent on our platform by players you referred – for the rest of their lives. Your Revenue Share can go up to as much as 50%.
Sign up today, and you'll even get 60% for the first 2 months!
There can be a number of reasons to prefer a flat fee per player to a Lifetime Revenue Share. With our CPA deal, you will get a predetermined fee for every paying player you refer to us. The fee depends on the amount and quality of the players you refer.
Get in touch with our Affiliate Managers to discuss a CPA deal.
Why not get a flat fee for every paying player you refer, but also share in the revenue? You can have the best of both worlds with our Hybrid deal. We will look at your activities, and get you the best mix of CPA and Revenue Share to suit your marketing efforts.
Get in touch with our Affiliate Managers to discuss a Hybrid Deal.
Net Revenue VS. Rev-Share %
Of course all our commission plans come with no set-up fee and no negative carryover. After all, we want to reward you for referring players.
Enjoy our 60x60 Welcome Offer!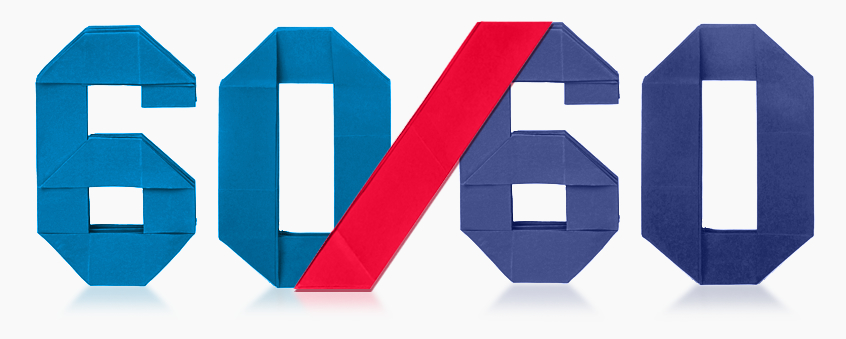 You know how with everything new, you always have to start at the bottom? Not with us. We want you to thrive, so we'll help you get off to a flying start. Here's what we'll do.
60% for 60 days
Sign up today, and you get a 60% Revenue share on all new players you refer to us. It doesn't matter if you bring 1 or 1,000 new depositing players (NDPs), you will get 60% of every euro of the net revenue.
After that…
Of course we will have your back after those 60 days. Depending on your needs and performance, we will discuss a deal with you. We promise it's the best deal in the business.
Terms and Conditions
This offer is valid for 60 days and starts at the moment you sign up. After the 60 days we will adjust your revenue share according to our Affiliate Commission Plan or any new agreement.
One affiliate account per person or company. You can however add multiple websites and other channels to your affiliate account.